Well, we did it. Time is meaningless and November, much like 2020 as a whole, felt like it lasted far longer than it did at times (let's hear it for being a key worker), but there was a wonderful shining light called Sci-Fi Month to get me through it, even if I didn't post nearly as much content as I would have liked. I did get some awesome media consumed, though! Let's look back…
If you missed any of the amazing content contributed by our nerdy spacefaring crew, you can always check out the Mission Log round-ups maintained by myself and imyril! Links below:
There's Always Room For One More: Week 1 | Week 2 | Week 3 | Week 4
Dear Geek Place: Week 1 | Week 2 | Week 3 | Week 4
What else is there?
When I wasn't making a superhuman effort to stay sane and healthy this month (latter: so far so good; former: hahaha), I was content to lose myself in some amazing science fiction.
Seven Devils by Elizabeth May & Laura Lam
This was The One I'd Been Waiting For, this year. The pandemic has hit a lot of authors very hard in the promotional opportunities, but all the good hype I've seen for this book has been thoroughly deserved and I cannot recommend it enough. I mean. It has a crew of badass anti-fascist women in space, standing up to power and learning to be friends along the way. I'm inclined to be protective of the details beyond that, not wanting to spoil anything, but this was one deliciously tense series of events tied together by a cast of fascinating – and flawed – characters who have a lot of reconciling to do (in a few senses) before they can work together at their best. And if that's not catnip to this constant reader, I don't know what is. I have even bigger hopes now for the second book in this duology, and once again I cannot wait to read it.
Escape Pod: The Science Fiction Anthology, ed. Mur Lafferty & S.B. Divya
I'd hoped to be able to fit a review for this into the Sci-Fi Month schedule somewhere. It didn't happen, alas, but that is certainly not a reflection on how amazing I thought it was. I don't read a great many anthologies compared to my novel intake, but of the ones I've read before, their content tends to be hit and miss. Not every story will push the right buttons for me. It's certainly been true that some just don't work for me at all. Escape Pod took my preconception and gleefully smashed it to bits. There was not a single story in this book that I did not enjoy, or at least appreciate. A good number of them blew me away. Undoubtedly, it confirmed Escape Pod as my gold standard for the best of today's best science fiction short stories.
Highlights ranged from Sarah Gailey's gruesome and gleeful "Tiger Lawyer Gets It Right", to Mary Robinette Kowal's heartbreaking – and heartwarming – "Jaiden's Weaver" (I mean, damn, any story that can make me sympathise with a spider is doing something very magically right). And I cannot imagine a stronger way to close an anthology than by featuring an N.K. Jemisin story that makes absolutely no apologies nor takes any prisoners. Just trust me, you need to read this. All of this.
Behind the Throne (The Indranan War #1) by K.B. Wagers
Fellow bookish nerds have been informing me for quite a while that I needed Hail Bristol in my life. This month I took their advice, and dang if they were not entirely correct.
K.B. Wagers surprised the heck out of me with this; I expected full=throttle explosive shenanigans in space, and while I was not disappointed, I was thoroughly surprised because what I also got was a fascinating lead character, torn by her conflicting desires and equally conflicting nature – though that aspect surprises her, and as a reader I fell headfirst into the resulting character study/family drama. I ate this one up, folks, and it was one tasty meal. And the next book promises more of the explosive shenanigans I expected? Sign me the heck up right now.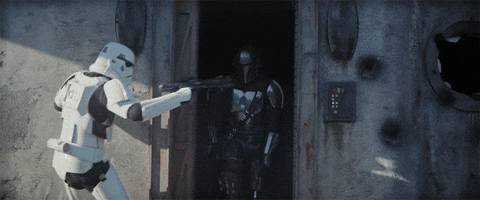 The Mandalorian, Season 1
"Late to the party" is pretty much my default, but what a party this turned out to be. I came for Child Yoda; I stayed for Child Yoda and Space Dad, and the adoptive aunts and uncles they find along the way. I closed out Sci-Fi Month with the season 1 finale, and while I may be taking a bit of a blogging hiatus during December in order to weather the storm that will be the workload ahead of me (yay, mail processing), I plan to unwind and breathe with a bit of help from season 2…
#DisneyMustPay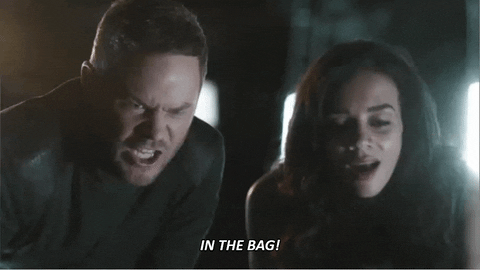 Killjoys, Seasons 1 & 2
If enjoying found families, sharp banter and explosions in space is wrong, I do not want to be right.
The season 2 finale left things in a rather questionable place in my view (no spoilers, don't worry), but I'll probably keep watching because I really do love me some space underdog action with Surprising Amounts Of Feelings, and Killjoys does this really well. And Dutch is my favourite. More Dutch in my life, please.
Wow, that actually was quite a bit of media consumption! And I'm not done yet?!
Right. For now it is the weekend and I have some much-needed chilling out to do, so I'm going to sign off here and get on with that. Got some hot chocolate to drink and hot food to eat and jammies to wear. Wild times, indeed.
Take care of yourselves and each other, wear your masks, do your best to have a good time (whatever that may look like) at the end of this decades-long year, and I hope to see you all as refreshed as possible in the new year. We can do this.